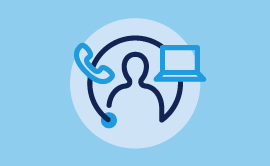 ON-PREMISES
Maintain on-site systems for ultimate communications control
While hosted cloud communications offer many benefits, on-premises systems still have their place. Firms with the in-house expertise often prefer the control and flexibility of maintaining their own infrastructure. In certain industries, on-site systems help support strict compliance efforts. Sometimes the choice to purchase an on-premises solution stems from accounting preferences and total cost of ownership. Whether installing state-of-the-art hardware or a private virtual network, VOIP Networks offers the experience and support to ensure smooth and effective implementation.
We start with the same comprehensive needs assessment that drives our other services. This process allows us to design a communications solution that supports the evolving needs of small to medium businesses. Initial and ongoing training help staff members embrace new communication tools, while our service team makes sure the system continues to serve the organization's current operations.
Heritage in hardware
Because our 35-year history started with traditional PBX systems, we have decades of experience configuring and installing this equipment in enterprise environments. Our heritage in hardware-based communication allows us to design feature-rich, cost-effective solutions to support firms of all sizes that desire the control, compliance, or cost advantages of on-premises systems. As an added benefit, our hybrid cloud solution allows clients to add cloud-based communication features to their on-site infrastructure.
Private cloud expertise
At the same time, we have continued to reinvent our offerings. Our company has evolved, just as mobile technology and cloud computing have transformed the communications industry. Our experience in building a public cloud infrastructure that supports thousands of users allows us to create equally robust and stable private clouds for small to medium client organizations. These on-site networks offer the same internal control, supported by the training and service that distinguish our other offerings.
:
Support operations with a private cloud environment or traditional hardware solutions.