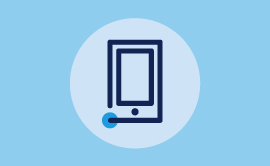 MOBILE
Communicate with colleagues and clients on any platform
In today's enterprise environment, a single user may need to access work applications from a number of devices. For instance, a sales representative may have a Windows desktop at the office, an Android smartphone, and an Apple tablet. Executives may travel between company locations, working from any combination of desktops, laptops, and mobile technology. Our flexible Cloud 9 platform supports all popular devices and operating systems. Not only does this built-in mobility create a consistent user experience across devices, but it also delivers the same professional presence to colleagues and customers.
User-defined experience
This cross-platform compatibility is an essential part of our VOIP phone system strategy. When building a custom solution for enterprise clients, we conduct a comprehensive review that includes the following:
Who are the different users in the organization?
How do they work and interact with each other?
How will the communication solution affect their workflow?
We partner with clients to create a VOIP phone system that reflects their world today, as well as what they want it to look like tomorrow, implementing our solutions. In addition, we provide ongoing training and support to ensure those systems continue to meet their needs as their enterprise evolves.
:
Offer users a consistent communication experience, regardless of device or platform.