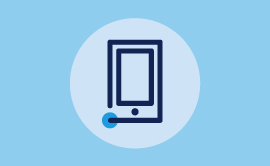 MOBILE
Deliver consistent customer service from any platform
VOIP mobile technology has revolutionized business—from the way customers research and buy products and services to the means by which companies meet those demands. Recognizing this trend in its infancy, Mitel adopted a mobile-first approach to software design. The company starts by developing for smartphones and tablets, and then extends the user experience to desktops. This innovative design strategy delivers full functionality across devices and operating systems. Built-in VOIP mobile also creates a consistent, professional image when communicating with colleagues and customers.
Ultimate flexibility
Our cross-platform compatibility supports the flexible work environments of small to medium companies. From bring-your-own-device (BYOD) policies, telecommuting, and normal business travel, VOIP Networks helps organizations maximize productivity in every user context with VOIP for small business. We start each engagement by conducting a full review that includes the following:
Who are the different users in the organization?
How do they work and interact with each other?
How will the communication solution affect their workflow?
We help growing companies build a system that supports their existing operations, as well as their future state. Ongoing service and training ensures that their communication solutions continue to meet their needs as the business evolves.
:
Offer users a consistent communication experience, regardless of device or platform.