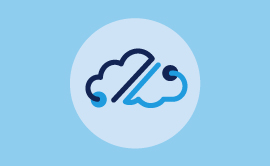 HYBRID CLOUD
Support business communications with the best of both worlds
Our hybrid cloud solution allows enterprises to integrate either a physical or virtual on-site system with the robust features of Cloud 9 by VOIP Networks. For a variety of reasons, organizations may recognize benefits in hosted communication, but they may still need an on-premises infrastructure.
Companies may have made a significant investment in communication hardware.
Organizations in industries with strict compliance requirements may need to keep sensitive data on-site.
Large enterprises may prefer to transition to cloud-based services over time, testing the system at a handful of locations.
A hybrid cloud system combines the scalability and flexibility of hosted communications with the heightened control of an in-house system.
Unsurpassed flexibility
Our Mitel-powered Cloud 9 platform enables us to develop a custom solution that meets the specific needs of each organization. We can accommodate any mix of hosted and on-site services to create a consistent user experience across the enterprise, regardless of geographic location. Clients can supplement their internal infrastructure with Cloud 9 services as needed—or use this flexible model to migrate to the cloud, based on the strategy and schedule that best meets their needs.
:
Extend the lifespan of in-house systems with the flexibility of our Cloud 9 platform.