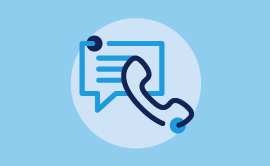 CONTACT CENTER
Improve customer experience and operational efficiency
The technology behind the modern VOIP contact center has transformed these sales and service hubs into multimedia environments. More importantly, these cloud-based solutions offer small and medium businesses affordable access to enterprise-level tools, including integrated voice response (IVR) and complex call routing. In addition to phone and email, organizations can communicate with customers via chat and text. Detailed analytics provide feedback on the customer experience, and effective automation maximizes the efforts of lean staffing levels.
Actionable analytics
Because smaller organizations often have less room for error, the insights available from VOIP contact center software can play a critical role in operational efficiency, as well as in sales and customer satisfaction. Businesses can track inquiries and resolution time by medium to analyze the productivity of individuals, groups, or locations with their VOIP phone system for small business. Combining real-time and historical data allows companies to forecast their workforce needs to accommodate seasonal volume, while maintaining desired service levels.
Nimble, responsive
Our contact center software adapts to organizations' changing needs—and to evolving customer preferences. From centralized sales and support centers to far-flung networks of remote personnel, our Cloud 9 platform allows businesses to present a cohesive, professional image with each interaction. The mobile-first design of our software delivers a consistent user experience for both employees and clients, regardless of device or operating system. Continued communication with our customer service teams and ongoing training ensure that the system supports changing business needs.
:
Improve sales and service with a multimedia platform that offers real-time analytics.