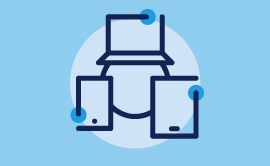 APPLICATIONS INTEGRATION
Experience seamless communication in every workflow
The proliferation of cloud-based applications and the flexibility of our Mitel-powered Cloud 9 platform allow unprecedented interoperability. Our technology integrates with popular services like Office 365, Salesforce, and SugarCRM without custom development. Enhancing these key applications with communication tools—such as voice communication, instant messaging, call recording, videoconferencing, and more—improves efficiency, while creating a better user experience for both employees and customers.
For applications that don't have native integration, including proprietary software, the open architecture of our Cloud 9 system can be easily adapted—by in-house developers or our strategic partners. Just as importantly, our service team partners with clients throughout the implementation to ensure they maximize the value of their technology investment.
Prepared personnel
Whether making sales calls or fielding customer inquiries, employees have instant access to account information for individuals and organizations. Each person in the communication chain receives updates on previous conversations and actions, which streamlines the interaction for both parties.
Satisfied customers
Seamless automation, supported by knowledgeable employees, creates a positive experience for customers and prospects. Efficient integration allows organizations to focus their human resources on making decisions and building relationships. In short, the right automation enables enterprise organizations to deliver personal, and personalized, service.
:
Streamline operations and improve customer experiences with seamless coordination.