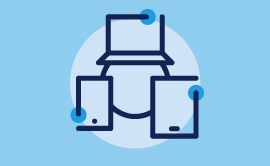 APPLICATIONS INTEGRATION
Create a superior user experience with seamless integration
While cloud-based applications make sophisticated communication tools accessible, our flexible Cloud 9 platform allows small to mid-sized organizations to maximize their technology investment with fluid interoperability. Our solutions integrate with popular services like Office 365, Salesforce, and SugarCRM without custom development. Adding such features as voice communication, instant messaging, and online collaboration improves efficiency, while creating a better user experience for both employees and customers.
For applications that don't have native integration, including proprietary software, the open architecture of our Cloud 9 system can be easily adapted—by your in-house developers or our strategic partners. Just as importantly, our service team partners with you throughout the implementation and beyond to make sure our solutions support your operations.
Enterprise-level service
Employees involved with both inbound and outbound communications benefit when key applications speak the same language. Having instant access to account information for individuals and organizations briefs each person in the conversation chain on previous conversations and actions. As a result, the employee can immediately take the next action, resulting in a smoother interaction for both parties.
Increased efficiency
The combination of effective integration and knowledgeable employees delivers a superior experience for customers and prospects, while enhancing productivity. Teams can spend less time on administrative tasks and more time supporting the organization's core products and services. For small to mid-size operations, the right automation levels the competitive field. Companies can apply limited human capital to make the biggest contribution.
:
Streamline operations and improve customer experiences with seamless coordination.