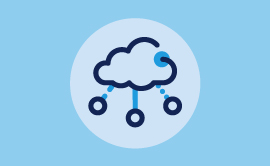 NETWORK ACCESS
Support business operations with superior network and service quality
Without VOIP for small business, many small to medium organizations find that their existing internet provider can support the data, imaging, video, and business applications that drive daily operations. Most cloud communication providers rely on this bring-your-own-bandwidth model to network access. However, some companies encounter bandwidth issues in the form of poor call quality. Multiple applications fight for network access, and voice data—the most critical—often end up scrambled.
Dedicated access
VOIP for small business offers dedicated broadband access nationwide. Translation: Routers at client sites communicate directly with our routers, placing priority on voice packets. If network traffic is high, our system slows down other applications, such as email and video transmission, to ensure crisp call quality. Dedicated network access offers the only way to guarantee quality of service (QoS) in cloud communications.
Local leaders
No single network service provider leads all markets. For small to medium businesses with multiple locations, our network access solution offers a single point of contact and bandwidth on the best data and voice networks in the region. We partner with leading service providers across the country to create the best possible cloud phone system for small business. These agreements allow us to offer clients custom solutions that use the best network in each area of operation. VOIP Networks manages every part of the communications system, from network access and remote infrastructure to user applications, so customers can dedicate internal resources to their core business.
:
Enjoy superior call quality and preferred pricing, without the management headache.