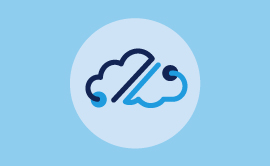 HYBRID CLOUD
Extend the life and features of on-premises systems
Our hybrid cloud solution combines on-premises systems with our robust hosted infrastructure, Cloud 9 by VOIP Networks, for a seamless user experience. Recognizing that some companies still need the added control and convenience of on-site technology, a hybrid system removes the barrier of geography and frees businesses to create a custom communications platform that supports their operations.
Hybrid solutions make sense for organizations that . . .
Have a significant investment in on-premises hardware
Need to maintain on-site systems for compliance purposes
Want to transition their communications over time
In each case, the addition of our Cloud 9 hosted solution can extend the lifespan of on-premises technology, while creating a consistent communications experience for all users, regardless of location.
Unsurpassed flexibility
Our Mitel-powered platform enables us to develop a custom solution that meets the specific needs of each organization. We can accommodate any mix of hosted and on-site services. Clients can supplement their internal infrastructure with Cloud 9 features as needed—or use this flexible model to migrate to the cloud, based on the strategy and schedule that best meets their needs.
:
Enhance traditional systems with the scalability and flexibility of our Cloud 9 solution.