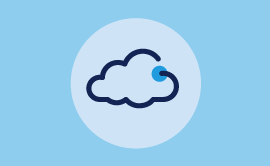 CLOUD
Enjoy affordable, scalable enterprise-level communications
Cloud-based communications have leveled the competitive field, allowing widespread access to features previously reserved for enterprise organizations: contact centers, call recording, videoconferencing, and more. Perhaps more importantly, these advanced features no longer require in-house technology expertise. Even so, cutting-edge technology—including Cloud 9 by VOIP Networks—works best when supported by skilled people.
VOIP Networks takes a human approach to technology. From the initial consultation to daily operations, we uncover how individuals in an organization use communication tools. Then we customize the Cloud 9 user experience for each role, and we refine that experience throughout the life of the engagement. This comprehensive process ensures that the communications technology supports the company's operations now and in the future.
Industry-leading technology
Our flexible Cloud 9 platform is powered by Mitel, the only business communications company ranked across 5 Gartner Magic Quadrants. As a result, we can create a unique user experience for each job function, one that offers unsurpassed application integration and mobility. Customers pay for only the features they need, with the ability to scale their services up or down, as required.
The human touch
Purchasing technology is easy. Using that technology to improve business operations is infinitely harder. VOIP Networks offers on-site implementation, guiding clients through every step of the set-up process. We design a custom training program to show users how Cloud 9 supports their specific duties, and we stay in touch to ensure that the system continues to meet the organization's needs. In addition, we host frequent classes where customers can receive supplemental instruction, tailored to their organization.
:
Experience enterprise-level communications with Cloud 9, a flexible solution that grows with your business.