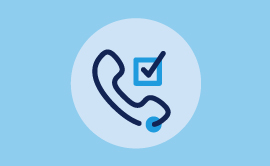 CALL RECORDING
Maximize the return on your quality and compliance investment
Whether you work in an industry with specific compliance requirements or you want to record calls for quality assurance and training, our call recording solutions offer sophisticated tools and rich insights to manage the customer service experience. Speech analytics, for instance, allows managers to search for specific words within recordings, while a request to "speak to a manager" can instantly alert the appropriate individuals. Often paired with our Cloud 9 contact center solution, the software also permits screen recordings so supervisors can see match a customer service agent's actions to the phone conversation.
Flexibility and support
Because our call recording solution is built on the same platform, it supports all of our communication offerings, in any technology environment—cloud, on-premises, or a combination of the two. Users enjoy the same experience, regardless of device or operating system. Seamless integration makes it easy for employees to use, and our continuous customer support helps management ensure that the technology is used in a way that improves business operations and fulfills industry compliance obligations, as required.
:
Support compliance and quality control with data-rich, cross-platform recordings.