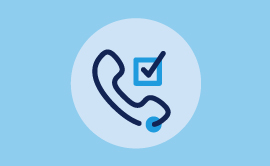 CALL RECORDING
Support quality assurance and industry compliance efforts
Our state-of-the-art Cloud 9 call recording solutions help small to medium companies monitor and optimize the customer service experience. Call recording enhances our contact center software with additional insights that support training and industry-regulated compliance efforts. For example, speech analytics makes it possible for managers to search recordings for specific words and phrases. This feature can also trigger preset actions, such as notifying a supervisor or manager upon customer request. Screen recordings can pair a sales or service representative's actions with the conversation to provide a more complete picture for training and performance evaluation.
Accessible intelligence
These enterprise-level analytics allow smaller organizations to track and manage the daily interactions between employees and customers. Unprecedented data and insights help management assess and improve business operations, while meeting applicable industry compliance requirements. Enhanced mobility permits the Cloud 9 software to capture the same information for on-site and remote teams, regardless of device or operating system, and the flexible platform supports any technology environment—cloud, on-premises and hybrid cloud systems. VOIP Networks' customer service team optimizes and maintains the system for the life of the contract, freeing in-house resources for core business functions.
:
Support compliance and quality control with data-rich, cross-platform recordings.