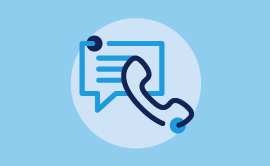 CONTACT CENTER
Deliver cutting-edge customer service in the mobile world
Unlike the call centers of the past, today's contact centers have evolved to support consumers' preferred methods of communication. The prevalence of mobile technology and the growing influence of Millennials have changed customer service. Our Cloud 9 contact center solutions can create virtual, multimedia environments that allow people to choose how to interact: voice, email, webchat, and even SMS. Not only do these solutions respond to public demand, but they also provide important information about how well the organization meets the needs of its customers.
Valuable insights
Our multimedia VOIP contact centers allow organizations to handle inquiries from a diverse customer base in a structured environment that provides insight into call volumes, by media type. For instance, companies can track and analyze the productivity of a specific individual, group, or facility, examining the information by medium. These statistics deliver real-time and historical data that allows organizations to forecast their workforce needs, based on service targets.
Custom solutions
At the base level, our Cloud 9 contact center software delivers multimedia capabilities and sophisticated reporting that supports the modern work environment, from teams that range from a handful of agents to thousands. Remote and on-site personnel can connect to the system with any device—Windows, Mac, tablet—and enjoy the same user experience, thanks to our platform mobility. Our workforce management capabilities include integrated voice response (IVR) and complex call routing. As with our other solutions, our customer service team provides ongoing support to ensure trouble-free implementation and continued optimization.
:
Enhance sales and service with a multimedia platform that offers real-time analytics.